Dear Friends,
It feels like another lifetime when the Brooklyn back yard was filled with so much love and possibility and the discussion of all that A Little Creative Class could be. That was June 18, during our first creative roundup held at my now former home. At the end of a robust round table exchange, we pledged to reconvene in the Fall to begin concrete plans for ways to be ready to welcome the first group of young residents in the summer of 2017. Certainly there were logistics and specifics and finances to figure out, but we left with spirits high and in agreement that there is a definite need to partner with so many of the youths throughout New York State who feel far away from the hope of futures that offer much beyond the little that generation before them had.
The momentum built over the summer, though all the while in the background the ominous sound of election doom droned on. It was terrifying and distracting and I had so much work to do to get A Little CC up and running, and still the enormity of what was happening brought up life long internal conflicts about my professional self…and where I was supposed to be in it all.  Though in my heart, I have outgrown the role of journalist, my mind is still hardwired to respond through bearing witness. This election season felt like the post 9-11 media call to duty, when I reconciled my fractured loyalties by rooting more deeply in the personal stories and issues that I care about.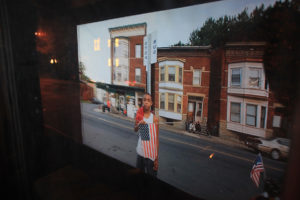 Reflection of Troy's Uncle Sam Parade Slide Show installed in the window of North Troy People's History Museum
November 08, 2016
Election night came and I had decided that I needed only to be in a place that held the greatest importance for me. Like preparing to be locked in during a snowstorm or hurricane, I considered what moral ground I wanted to be hunkered down on when the results came in. Deciding not to run with the election press pack was easy compared to discerning the true social imperative of who I needed to physically stand in solidarity with on this earth-changing day.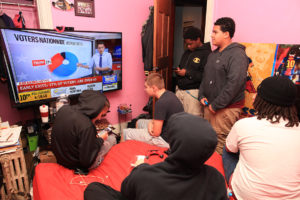 Little John's Room Election Night 2016
It was dusk when I knew that what for two years had been called "unthinkable" would become unavoidable. I was in Troy going back and forth from my friends'  The Stocklas' house to photograph a site-specific installation next door in the abandoned childhood home of Executive Board member Dana Wells. The installation, titled The North Central Troy People's History Museum, traces the roots of social inequity that extend from Dutch Patroonships in 17th Century New Netherlands, up through the coming of age stories of all the kids who live on this block today.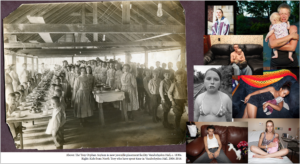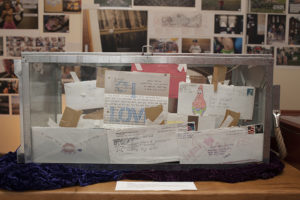 As the results in The States were called, I clicked the shutter in front of a glass case full of prison letters exchanged between an incarcerated 16 year- old father to be, and his 18 year -old girlfriend on the day after her church arranged for their first child to be adopted by a couple from the congregation. The circumstances that landed the boy in a man's prison were as much about being poor and black as any accumulation of events that had piled up on his record. This turning point in the young mother's life would have been different if she weren't poor, white and according to her minister and the faithful around her, unable to raise her child in a two parent Christian household. Next to the letters were pages from the scrapbook of a young black woman who insisted on her right to wear a suit and tie instead of a dress to the prom held inside the juvenile placement facility where she was mandated to live for most of her teen years. On the wall near the scrapbook are pictures of the daily lives of two fourteen year of girls who became childhood sweethearts in 2002, and by 2004 had committed to co-parenting when one of the girls became pregnant by the cousin of the other. Then there is the newly minted certificate of completion issued by The Regional Transit Authority to a 50 year-old mother of eight when she began her job as a City Bus Driver. Also preserved in the museum are name tags from spells of employment at Wal- Mart and Family Dollar and housekeeping departments of various major hospitality chains, locks of shorn hair sent home from the shock unit in a State Prison Facility for minors, and contracts for goods leased at hyper-inflated prices from rent-to-own establishments that are a staple among those trying to stretch a weekly wage.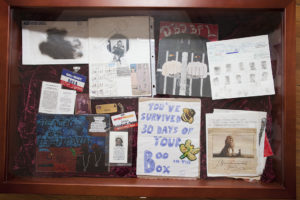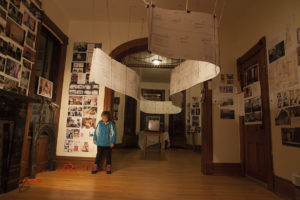 I continued to document the exhibition while election discussions poured out of the radio. I considered the narrative and felt compelled to determine which of the people represented in the room would be the most vulnerable during a Trump presidency. Though I was able to make a compelling case for each…I had never heard this debate among any of the people that I would be making it for.
The idea that everybody who lives here takes on an equal share of the same bad, has held this neighborhood together through generations of trauma. While, the democracy of poverty carries a moral mandate for all who live under it to spread resources and kinship as thinly as needed, the same safety net can result in fear, social discomfort and even shame for residents who might travel too far from a community that does not judge their pain.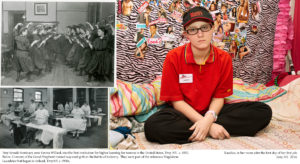 When I hear the refrain "Make America Great Again" again and again on this night, while I'm in this place, I can see this means different powerful people will find new ways to distract the same powerless people from finding the courage to change courses from those that decades ago stopped leading their parents and grandparents to wider possibilities.  When I hear talk of a noble American factory worker being at odds with the liberal intellectual, I hear a futile divisiveness that reinforces a stereotypical one dimensional view of both physical and mental work. This vilification of education is out of step with an entrepreneurial and interconnected world that requires both fortitude and a healthy sense of entitlement to the vast knowledge that we have at our disposal. The same ideology that drove social and technological progress, and in many ways sealed the fate of the factory workers whose faces I see in the Museum's 1920's Image of Collar Stitchers at Cluett and Peabody, has already cemented generations of young people into a landscape of unskilled labor.
I am deeply saddened, though not at all surprised by the election results. The social and spiritual division that we are now experiencing as a country, I had been straddling for decades before this election. My belief that education in the purest sense is no longer a luxury, but an elemental resource in the battle to preserve civilization, was reinforced on the night of November 08, 2016. Within hours I made the decision to respond by rededicating myself to being a bridge, whenever possible, between cultures forged by inequity and to hold myself to standards of loving all who I do not agree with. I aim to become a life- long student of understanding what brings meaning to the lives of others and to offer what I learn as we come together to build A Little Creative Class.
The mission of Little Creative Class is to best addresses the challenges unique to marginalized youth as they become orientated to a wider array of cultural and social possibilities. I had not thought of Our Mission when I chose where I would plant my feet on Election Night 2016, I just knew being in Troy with the people who inspired and informed our program felt right. It has been my experience that when I am where I am supposed to be, life comes full circle in ways that I could have never planned. So on election night I finished photographing a sea of faces and institutions from Troy's Victorian Era up through a mug shot on a jail ID some one gave me last month. As I packed up my camera gear, it became real that the election had been won on the promise of "making America great again" and I walked back to the firm ground of Our Mission and the home where this night began.
I had started the evening by going with Kayla Stocklas and her mom Deb to the local middle school, where each woman voted for the first time. Debs youngest daughter Christy, who is one of Little Creative Class's Youth Ambassador's had been working for weeks on the first – ever in any generation on either side of her family  –  application to a four year college. On this election night we finished the financial aid form, spell checked her essay for the 20th time and tied up all the other loose ends that dangled, and I snapped a cell phone pic as Christy pressed send.
In that moment I was so grateful for where I stood.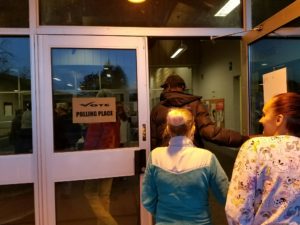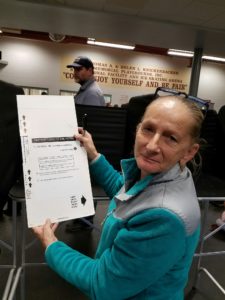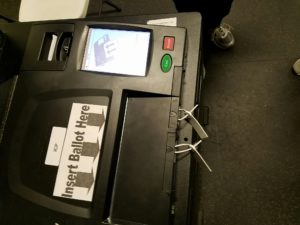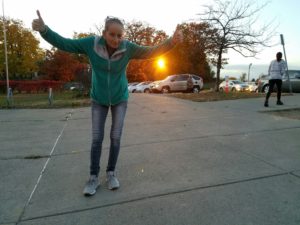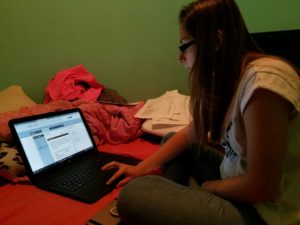 Christy pressing send on her college application.
PLEASE BE ON THE LOOK OUT FOR/ SAVE THE DATE FOR:
A LITTLE CREATIVE CLASS ART FASHION BENEFIT EVENT
EARLY THIS SPRING in OUR TEMPORARY HOME at
236 Malcom X Blvd.
Brooklyn, NY 11221
Details and call to participate to follow in a blog post early next week… until then…
Love and Bridges,
Brenda K.